MATA MARINE SERVICE - official representative A-Glaze products in Croatia.
Why A-Glaze ?
The A-Glaze Plus Active system is the most advanced polymer sealant available on the market today. The unique formulation now incorporates five polymers including UV stabilizers and pollutant protectors. This system is being continually updated to provide the best possible service to each sector of our specialized market. Separate formulations are available for GRP or painted finish craft.
Since the launch of A-Glaze Marine, the A-Glaze Surface Sealant and associated products have gained a massive amount of respect within the leisure marine industry. Private owners, large charter companies, manufacturers, valeting companies and gel coat manufacturers are all taking the products on board to give an unrivalled shine and long lasting protection to marine painted surfaces or gel coat finishes. It is used worldwide by prestigious boat companies like Fairline Boats and Sunseeker Boats. The recent launch of the new improved A-Glaze Plus Active Surface Sealant will further cement the system's position as a market leader, at the same time giving an improved product to our customers, guaranteeing a year of hassle free boating with less cleaning and more protection from all atmospheric pollutants, acid rain, fallout, bird lime and the damage caused by the sun's Ultra Violet rays to gelcoats and water based paint finishes.
How A-Glaze treatment works
Many boat owners suffer from swirl marks due to fender rubbing as well as continuous polishing. Here you will see recent pictures taken before and after the A Glaze treatment has been applied.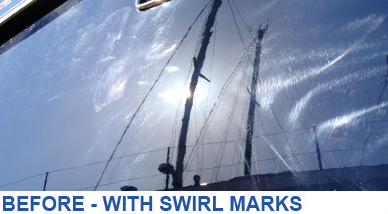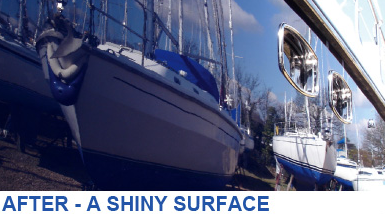 As you can see by this photo the boat has suffered from fender marks as well as polishing marks. After the A Glaze treatment has been applied. The marks have been removed and a gloss reinstated to last a minimum 12 months with less maintenance than usual. Just a hose down after each journey where possible and a wash using our Wash and Shine Shampoo when washing the boat.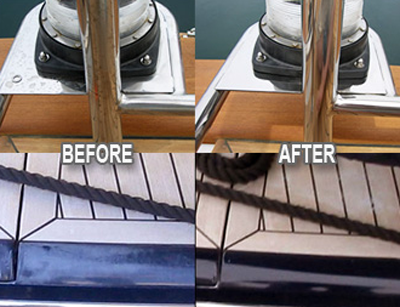 A Glaze Marine Sealant has proved immensely successful in reducing the labour tasks of continual polishing and problems relating to 'black streaking'. Although the product will not stop these marks from appearing they will certainly not stain the surface and will be easily removed.
This is most definitely the product that all marine enthusiasts have been waiting for to enable them to enjoy more leisure time cruising and sailing rather than washing and waxing.
To apply the A Glaze, first of all you will need to wash your vessel with our wash N shine shampoo. Wash N Shine is a unique product that is specifically formulated to 'float off' dirt and grime while leaving a sparkling just waxed finish. This is a wash and polish in one.
Once the boat has been washed, A Glaze surface preparation needs to be applied. This is a non silicon based fine duty polishing compound and cleaner, ideal for preparation on paintwork before final waxing. It ensures that all dirt is removed and is easily applied by hand or buffer.
No matter how often you clean your boat, black streak always return. But with A Glaze, they simply wipe off with a damp cloth and do not need to be waxed afterwards as the Glaze has stayed on the vessel.
A Glaze Marine Sealant is applied very sparingly as it goes a long way. A Glaze sealant bites into the surface of the GRP or paint finish to a depth of 5/7 microns and creates a surface shield. This prevents practically any form of pollutant from penetrating the sealed surface, thus giving the base material total protection from acid rain, snow, salt, industrial fallout, oxidisation and colour fading but most of all, the sun's ultra violet rays. Two coats of glaze need to be applied. The A Glaze system is not a polish or a wax but actually bonds to the surface and creates a brilliant, high gloss protective barrier leaving dirt and pollutants resting on the glazed surface. A quick wash will maintain the treated surface leaving it looking pristine and any size, any colour boat can be A Glazed.
The adventages of Marine A-Glaze Plus Active
1. Total protection against the harsh environment
2. Protection against salt, snow, bird lime, industrial fallout, sun's UV rays
3. Total seal to prevent pollutant impregnation
4. A Continuous 'new looking' surface
5. Black streaks removed with ease
6. No more continuous polishing
7. Easy cleaning maintenance
8. Simple and easy to use
9. A 7 mirror image
10. Assists in the removal of dust when in contact with water
The adventages of using A-Glaze
1. Protects today's modern OE paint finishes and GRP finishes.
2. Will extend paint life by 50% as well as increase life of GRP.
3. No waxing or any other form of polish is required post application.
4. A-Glaze is purely 21st Century Nano polymer technology, containing no elements of polish within its formulation, nor any silicones or waxes.
5. A- Glaze is a non-flowing product, as the 3D matrix does not melt with heat as occurs with all waxes.
6. 100% easy maintenance – just shampoo and rinse for an on-going showroom shine and surface protection.
7. A –Glaze has no emulsifiers and is able to successfully blend with the surface unlike any type of wax, which simply dries on top of the surface.
8. A – Glaze does not age or discolour as does a wax, but maintains the original colour of the paintwork for years and GRP with annual applications.
9. Protection against the sun's ultra violet rays.
10. Protection against colour fading.
11. Protects against and reduces streak marks and exhaust stains.
12. Protection against acid rain.
13. Protects against ionization and fallout.
14. Protects against snow, ice and salt.
15. Helps protect against bird droppings.
16. Easy washing and no polishing
What does each of A-Glaze Plus Active's five polymers do?
The five polymers employed to create the A Glaze Plus Active formulation have been carefully selected and balanced to create maximum protection for the paintwork/GRP. Each polymer accomplishes a specific objective:
1. Polymer 1 provides gloss and lowers surface energy to create water beading and self cross-linking, which forms a three dimensional matrix.
2. Polymer 2 further lowers the surface energy creating oil repellence.
3. Polymer 3 helps prevent scuff marks or paint surface swirl marks.
4. Polymer 4 is a special organic oil providing a "flow" and self-healing process that helps to keep the protective surface level.
5. Polymer 5, another unique polymer, is a UV absorber which re-emits UV as heat and light of longer wave lengths.
These 5 Polymers are blended with an additional polymer stabilizer and formulated into a low viscosity solvent to give perfect surface coverage. It is important to note that Polymers 4 & 5 are proprietary. They are manufactured in Europe and do not appear on any public registry, nor are they available for sale in the United States.
MATA MARINE SERVICE A-GLAZE: protection, polishing and sealing any surface for yachts and cars.