MATA MARINE SERVICE - official representative A-Glaze products in Croatia.
The A-Glaze Plus Active system is the most advanced polymer sealant available on the market today. The unique formulation now incorporates five polymers including UV stabilizers and pollutant protectors. This system is being continually updated to provide the best possible service to each sector of our specialized market. Separate formulations are available for GRP or painted finish craft.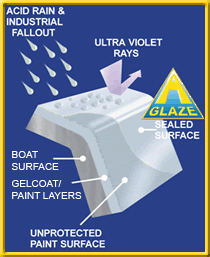 The adventages of Marine A-Glaze Plus Active
1. Total protection against the harsh environment
2. Protection against salt, snow, bird lime, industrial fallout, sun's UV rays
3. Total seal to prevent pollutant impregnation
4. A Continuous 'new looking' surface
5. Black streaks removed with ease
6. No more continuous polishing
7. Easy cleaning maintenance
8. Simple and easy to use
9. A 7 mirror image
10. Assists in the removal of dust when in contact with water
MATA MARINE SERVICE A-GLAZE: protection, polishing and sealing any surface for yachts and cars.